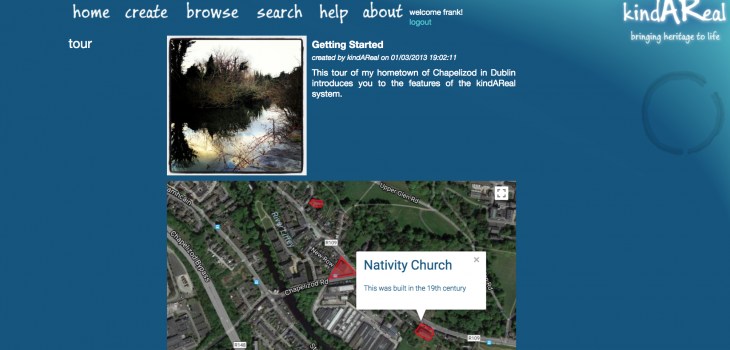 I developed kindAReal way back in 2012 as the practical component of a paper I gave at the 'A 

Cretan

 

Landscape

 

through

 

Time

: Priniatikos Pyrgos and environs' conference, which was held in the British School at Athens in June of that year. It seems that kindAReal may well be an example of an apps that arrived too early. It allowed 'creator' users to build tours of heritage sites, which were then presented to end users using Augmented Reality as a medium. In other words, as an end user wandered about an archaeological site or museum or any other other heritage location, they would be able to hold up their phones and see information overlaid on top of the realtime video that highlighted areas of interest. Tours could include text, images and audio guides for each of these hotspots. Anyway, as we now know, Augmented Reality or AR has become the latest hot technology and kindAReal can be safely consigned to the shelf marked 'unfulfilled potential'.
Here's the original marketing piece for the app:
What is kindAReal?
kindAReal is a fun and exciting new way of exploring your heritage. Have you ever visited a site that you were told had great historical significance? Maybe it was an old battlefield or perhaps a castle once used during the Crusades? Have you ever come away from your visit feeling less than impressed, your initial enthusiasm destroyed by a dearth of decent on-site information? Well, you're not alone. This is a frustratingly common experience among visitors of heritage sites.kindAReal sets out to bridge the gap between heritage content providers and the consumer using the web, your iPhone and some techno-wizardry to bind it all together. kindAReal has two types of user. On the one hand you have your content creators. They want to give visitors to their favourite sites the best possible experience that they are able to provide. These people might hold official positions and be associated with the running and planning of the site in question. Or they may be normal people who just have a passionate interest in their heritage and who want to contribute something to its telling.

These guys and girls join up to kindAReal as content providers. They are able to create tours that can then be used by the second kindAReal community group, the site visitors. Tour users are able to download the kindAReal app onto to their iPhone and from there they can browse through all the tours that have been previously created. Once they find the one that interests them, they simply download it and use then it to bring their site visit to life with expert contextual insight. And by using kindAReal's Augmented Reality capabilities, the task of matching content with real-world material has never been easier.

And the best thing about kindAReal is that it's all free! So get out there, become a kindAReal creator or visitor and start enjoying your heritage!
How did it all get started?
The kindAReal project started out in the early winter months of 2012. The idea emerged out of a long running discussion between Frank Lynam and Ronald Geobey, both postgrad students of Trinity College Dublin. They decided that they were sick to the back teeth of heritage sites being presented in a poor way to the public. Having initially considered the possibility of engaging with local heritage stakeholders on a site-by-site basis, the idea that technology might be used to better overcome the problem soon became apparent, particularly with the recent rise of the smartphone and the geolocation and Augmented Reality service capabilities that these devices brought with them.
It was from this general plan for a smartphone app that would allow users to better engage with their cultural heritage that the kindAReal development leapt forth.
Technical
The kindAReal website has been designed and tested using the Google Chrome and Mozilla Firefox web browsers. Internet Explorer, Opera and Safari have not been fully tested but should probably work. If they don't and you absolutely need to use one of them, please drop me a line and I'll see what I can do.
In order to allow users to preview a tour in the browse and search sections, I've used the kmlmapparser JS library and would recommend it highly!